Mental Health and Wellbeing Support
At St Patrick's Catholic Primary School, we aim to promote positive mental health and wellbeing for our whole school community (children, staff, parents and carers), and recognise how important mental health and emotional wellbeing is to our lives in just the same way as physical health. We recognise that children's mental health is a crucial factor in their overall wellbeing and can affect their learning and achievement. All children go through ups and downs during their school career and some face significant life events.
Our aim is to help develop the protective factors which build resilience to mental health problems and to be a school where:
All children are valued.
Children have a sense of belonging and feel safe.
Children feel able to talk openly with trusted adults about their problems without feeling any stigma.
Positive mental health is promoted and valued.
Bullying is not tolerated.
SCHOOL GUINEA PIGS
In our school we have two little furry friends; Marshmallow and Ted. They love to be read too and cuddled by our children. They are especially good when the children are not feeling great. Marshmallow and Ted are really good listeners. Guinea Pig Risk Assessment
NHS school health support This website will support with general health concerns, Neurodevelopment concerns, Healthy Relationships and Transition
Five Finger Breathing | a simple guided breathing exercise for kids
In this video I walk you through a super simple breathing exercise that you can teach to the children or young people in your care (or that you can use yours!). Click here to watch the video.
RELAX AND BREATHE: Do Nothing for 10 Minutes
For 10 minutes, do nothing but breathe. Clear your head, meditate, be free of worries for ten whole minutes. Click here to listen to the track.
Mindfulness for children
Click here to listen to a video of mindfulness for children. You can even join in with them and do this together!
Parent Guide
Mental Health Support at St Patrick's
Top 10 tips and guides to support Parents and Guardians
Click here for a link with top tips and guides to support parents and guardians with their mental health and that of their children.
KOOTH – online support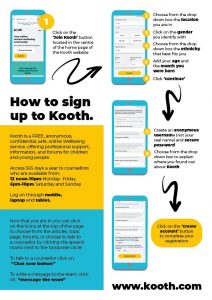 Worried about a child or young person's behaviour or mental health? You're not alone. Please share your concerns with staff at school.
Heads Together
If you are looking for general mental health support Heads Together Charity Partners are there for you. Whether we struggle with disappointing exam results, the loss of a job, a relationship break-up, depression, anxiety or any other mental health challenge, we all struggle with our mental health at times, and we all need support.
Follow this link to see what help is available.
Samaritans
It is important to remember that Samaritans are always there to help, not only when people feel suicidal. Samaritans offer a safe place for people to talk, any time, in their own way. People can contact Samaritans by phone, email, text, in writing or face-to-face.
Samaritans can be contacted 24/7, 365 days a year, on 116 123 or by email jo@samaritans.org.
More information visit these websites below
Eating Disorders – B-eat or In Our Hands
For general information and support
Young Minds – champions young people's mental health and wellbeing
Mind – advice and support on mental health problems
Minded e-learning
Time to Change tackles the stigma of mental health
Rethink challenges attitudes towards mental health