Year 2
Welcome to Year Two's blog page.  We will keep you updated with the fun and exciting things we get up to everyday via our Twitter feed and blog.  We would really appreciate you commenting on our posts and letting us know what you think.
Here is our learner profile for what a Year 2 child will be able to do by the end of the year.
Year 2 news...
KS1 had very special visitors from the mosque yesterday to tell us all about Islam, prayer and the Prophet Muhammad. We love finding out about other faiths and religions and every one of us listened very carefully to our visitors. Take a look at some of our wonderful photos…
0 Comments
---
Year 2 have started hanging their bird feeders up on trees in the school grounds. We are helping feed the birds during winter when the weather gets colder. We love helping our world! Take a look at our photos so far…
0 Comments
---
The results so far are very close with 4 classes all having 6 pieces each, and the other classes not far behind. This could be a close run race!
Make sure you are all in school everyday for your class to be in with a chance to win!
0 Comments
---
Thank you to everyone who came to or contributed to our lovely assembly this morning. Children from all classes were proud to show what they had been learning about Baptism and Confirmation. We are looking forward to learning about Islam next week, which will end in another special assembly next Friday. Do come and join us!
0 Comments
---
Year 2 have just finished their first DT topic of the year: making moving dinosaur toys! We designed our toys, thinking of materials we could use, and the size, shape and general appearance of our dinosaurs. We also knew we had to add axles and wheels, and string to pull it. As an added challenge, some of us even used electrical circuits with buzzers to make the dinosaurs 'roar'!
Next, we made 3D models of our designs using Play Doh, producing some excellent written descriptions of our dinosaurs too. Finally, it was time to cut out and tape the cardboard boxes into dinosaur shapes, paint the cardboard and add the axles, wheels and string.
Thank you to all the families who provided cardboard boxes for us to use! Take a look at our finished moving dinosaur toys!
One Comment
---
In English last week, Year 2 wrote instructions on how to make bird feeders. Today, we followed the instructions and made them using recycled bottles, kebab sticks and string. We are making bird feeders to help the birds eat during winter. We are going to put the seeds into the bottles the week after next, and hang them on the trees around school. Can you remember why birds find it hard to eat during winter Year 2? What did our book 'Ten Things I Can Do to Help My World' tell us?
0 Comments
---
Year 2 had lots of fun finding out about materials and their properties last week. We carried out an experiement to try and make our handmade boats waterproof using wax crayons. We had to make sure the whole bottom part of the boat was covered with wax or the boat would get wet, rip and sink to the bottom! Some of us were waterproofing masters! Take a look at some of our photos and please leave us a comment to read in class 🙂
One Comment
---
We had a special music lesson this week for Black History Week. Year 2 learned about the origins of blues music and why blues is such an important and influential genre of music. We thought about all the things that can be unfair about being a kid and put our ideas together to make a song called The Year 2 Blues! Take a look at our amazing singing and glockenspiel playing!
0 Comments
---
Last Friday we enjoyed a wonderful "Show and tell" assembly to mark the end of our RE topic, "Families". Each class shared what they had been learning in a creative way, and it was wonderful that so many of our families came to celebrate with us! Thank you to all who came and to all the children and staff for their lovely contributions.
0 Comments
---
We had great fun this afternoon making our own marble runs! We are entering a marble run competition run by CLEAPSS. The rules are: the marble must not stop for more than 1 second, the structure cannot be more than 1m tall, and there can only be a maximum of 5 people in a team. The aim is to design and build an interesting marble run that keeps the marble in motion for as long as possible.
Thank you to all the parents who came in to help; you were amazing! Take a look at some of fantastic marble runs in action!
Invalid Displayed Gallery
IMG_0680 IMG_0690 IMG_0693 IMG_0700 IMG_0704 IMG_0712 IMG_0722 IMG_0723 IMG_0724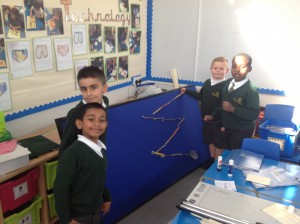 IMG_0730[1] IMG_0725[1]
0 Comments
---