Year 5
Hello everyone
Welcome to Year Five's blog page. We will keep you updated with the fun and exciting things we get up to everyday via our Twitter feed and blog. We would really appreciate you commenting on our posts and letting us know what you think.
Here is our learner profile for what a Year 5 child will be able to do by the end of the year.
Year 5 news..
In RE, year 5 took part in a debate to argue whether or not Jesus should have helped Levi to be a morally good person. We then used drama to role play how we make the right choices and support others. 
no images were found
0 Comments
---
no images were found
In DT club last week, we made delicious smoothies! We created our own recipes and decided what ingredients to buy. I think the favourite combination was strawberry, banana and mango!
One Comment
One response to "DT club are making smoothies!"
---
Year 5 had fun retelling the story-The Piano (Aidan Gibbons)- Film Narrative.
We created our own freeze frames using differnt scenes from the film.
0 Comments
---
This morning, we finished the term off in style with a spectacular music assembly! Every child from Year 1 to Year 6 performed, all playing instruments and singing, and some even performing their own compositions!
Year 5 started us off with a rock classic; Livin' On a  Prayer by Bon Jovi! The children played their own compositions on the keyboards, flutes, clarinets and glockenspiels, playing 3 separate parts. We also had fantastic rock drumming from Sarah and Conner! What a great way to start the show!
Then Year 1 showed us their hip-hop skills, rapping a modified version of the Grandma Rap (we changed it to the Santa Rap!), including their very own Christmas-themed rhythmic phrases led by Anthony, Nouf, Aye and Kitty!
Year 2 and Year 3 performed together, Year 2 on the glockenspiels and Year 3 on the recorders. They sang and played This Little Light of Mine…and it was amazing!
Year 4 have started to learn the clarinets this term with Mrs Holland, and they already sound great, performing 2 pieces for us as a class. Well done!
The Year 5 flutes group performed next. This sounded lovely!
After that, it was the Year 6 flutes group's turn, playing Away in a Manger beautifully!
Next, the Year 6 clarinets group played Silent Night. We all felt very Christmassy by this point!
The school choir performed after that, singing a song by Mr Larkin called This Christmastime, with solo singers (the incredible Erin, Lily, Jessie and Lily) and singing in 3 parts. It was fabulous!
Finally, Year 6 closed the show with an absolutely wonderful performance of I'll Be There. We had a harmony section, solos from Erin, Lily, Viyan, Millie, Alexie, Ciennah, Kenzy, Jewan, Julio, Lily-Rae, Abby (not to mention Bader, Luke, Kieran and Brendan at the end), and children performing their compositions in 3 parts on the keyboards, glockenspiels, clarinets and flutes! It was a superb end to the assembly!
no images were found
3 Comments
3 responses to "Christmas music extravaganza!"
---
This morning foundation stage were very lucky to be visited by Josh from year 5. He had brought in a book for us written in the style of "We're going on a bear hunt" but telling the story of the first Christmas! He read us the story beautifully, and even explained what some of the trickier words meant. We love it when the older children come to read to us! Thank you Josh.
no images were found
One Comment
One response to "A special story from a wonderful story-teller"
---
Years 4 and 5 have been exchanging Christmas cards and videos with our partner school in Madrid, CEIP Gabriela Mistral. We have also been exchanging information about ourselves and about Christmas traditions in England and Spain. Take a look at the informative Spanish PowerPoints that Year 5 have made to help our Spanish friends learn about English Christmas traditions!
0 Comments
---
Year 5 were very lucky to be able to make their designed product in DT. We had so much fun making bread and we learnt so much about baking that we didn't already know. It got very messy, but it was worth it! Our bread looked and tasted fantastic! Now we're ready to evaluate…
One Comment
One response to "DT bread-making workshop"
---
In Science, we designed burglar alarms by using our knowledge of circuits. We invited our parents and families in to support us and they were a fantastic help! It was great to show them how much we know about electricity and to impress them by helping them. Thank you all for coming!
One Comment
One response to "Science Parent Workshop – electricity"
---
It's great to see children across KS2 learning science together! This group is designed to give some of our pupils extra practice honing their scientific skills and developing their knowledge.
no images were found
0 Comments
---
The results so far are very close with 4 classes all having 6 pieces each, and the other classes not far behind. This could be a close run race! Make sure you are all in school everyday for your class to be in with a chance to win!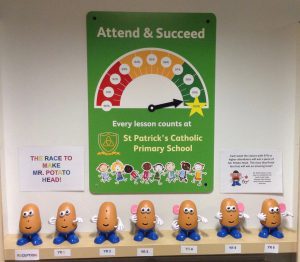 0 Comments
---