School Awards
AfPE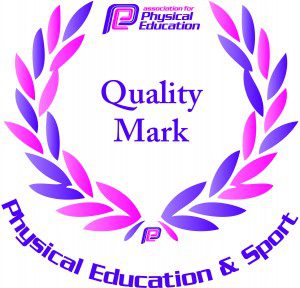 St Patrick's achieved the AfPE award with distinction in November 2018. The AfPE award is a prestigious award, which is a powerful way of celebrating success. The afPE Quality Mark recognises, through a succinct self review and evaluation process, the strength and quality of physical education and sport in our school. At St Patrick's, we are committed to providing the children with an extensive range of high quality sports and physical activities and this award recognises this. The application and inspection process recognised many strengths within our school; rigorous and sustainable planning, monitoring and assessment of PE, outstanding practice and promoting and fostering a love for physical activity and competition.
Healthy Schools Award

We received the National Healthy Schools Award in June 2016. The National Healthy Schools Award recognises the achievement that St Patrick's has made in a number of categories. The award looks at a range of areas including healthy eating, emotional well being and social, health, physical education and finally personal education. At St Patrick's we place an emphasis in preparing our children for their future. We do this through a variety of methods, including formal and informal learning. This Award has recognised that we are achieving this aim.
Eco School
St Patrick's was awarded the Green Flag Eco-Schools Award again in 2017. Eco Schools is an international award, which recognises the contributions we are making toward a sustainable environment. This award was given to celebrate and reward the work our eco-committee, pupils, staff, and parents do to help embed the Eco-Schools principles into the heart of school life. As a school community, we monitor energy consumption and campaign for saving energy both in school and at home. The Eco-Committee completed an Environmental Review and produced a detailed Action Plan that was shared with the rest of the school. We have a fantastic Eco-Code that is displayed in every classroom and sung by all children and staff during assemblies, highlighting our commitment to understand and protect the environment.
Liverpool Dyslexia Friendly Award

We were awarded the Dyslexia Friendly Schools award in 2009.This award recognises the efforts of staff to ensure all children are able to access their learning through a variety of strategies. It also recognises that our policies contain good practice in relation to dyslexia and all staff have a heightened awareness of dyslexia and the strategies available to help with learning.
ArtsMark Award
St Patrick's have been awarded the Artsmark Gold Award for the second time, which is the highest award available in this category. This award recognises the variety of arts that we use in our teaching methods. It does not just apply to our art lessons but also the drama and ICT we use to teach other subjects. We currently have a choir, who represents our school at various festivals and events and the whole school participated in the Liverpool Sing Up project. Some of our children have the opportunity to learn the keyboard, recorder, guitar and trumpet.
ICT Mark
St Patrick's were awarded the ICT mark for the 4th time in September 2016, showing that we place high regard to ICT within our school. We ensure that children are given various opportunities to develop their ICT skills through all subjects within school. We are extremely fortunate to have a range of ICT facilities including Apple Macs, Ipads and PC's, along with other software and hardware to support the children's learning.
Basic Skills Quality Mark
This award celebrates and supports the continuous improvement in literacy and numeracy. It is awarded to schools to recognise their provision, practice and performance in literacy and numeracy. In achieving this award we demonstrated a whole school approach to improving standards in literacy and numeracy, including identifying those children who were under achieving and how this could be addressed. Moreover, we are able to identify talented children and work with them and their families to further develop and nurture these skills. We were awarded this in June 2019.
International School Award

St Patrick's were awarded the International School Award in September 2019, which provides recognition for the teachers and pupils working on a global dimension in all learning experiences. At St Patrick's we have an international ethos embedded throughout the school, with children studying Spanish from entry to the school and a celebratory week each year focusing on different cultures and countries. We have also developed National Links with schools with the UK, including a school in the Lake District and in Southport. In addition, St Patrick's have close links with a primary school in Seville, communicating regularly through post and email and even visiting that school in 2010. Furthermore, we have contact with other primary schools in Nigeria and are currently trying to develop contact with primary schools in Milan, Poland and Germany.
Geography Quality Mark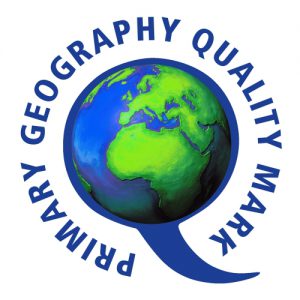 The Geographical Association is a prestigious award which recognises quality and progress in geography leadership, curriculum development and learning and teaching in schools. The teachers at St Patrick's have demonstrated that their planning, policies,and practice maximises pupil learning, innovate and challenge to achieve progress in geography.
Liverpool Counts Quality Mark
In June 2019, St. Patrick's achieved Gold Award status for the Liverpool Counts Maths Quality Mark. This is a prestigious award that evidences the school's outstanding approach to instilling a Numeracy for Life philosophy throughout the school, nurturing positive attitudes to maths and enabling children to see maths as a life skill that we need for everyday life and future careers. St. Patrick's was commended for embedding problem solving and reasoning effectively in its maths provision, with exciting real life problems and links to real life events bringing maths to life and placing learning in a meaningful context. The school received further praise for successfully engaging parents and the local community in its Numeracy for Life message, and for promoting financial literacy from an early age, including through making successful links with financial and business organisations.
Liverpool Reading Quality Mark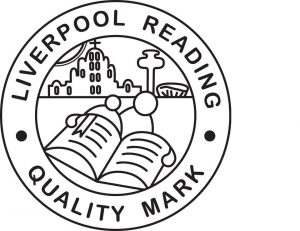 The Liverpool Reading Quality Mark has been developed in partnership with The National Literacy Trust and is supported by the Liverpool Learning Partnership, which represents all education sectors and all learners in Liverpool. It recognises schools' achievements in promoting reading for pleasure. In July 2019, we were awarded Gold status.
Primary Science Quality Mark
We are one of only 3 primary schools in Liverpool to achieve this award at Gold level (September 2017). The award demonstrates our commitment to high quality science teaching and learning, the continuing professional development of our teachers and support staff in science, and how we have had an impact locally and nationally on the teaching of science.
School of Sanctuary
We are delighted to have achieved recognition as a School of Sanctuary.
A School of Sanctuary is a school that is committed to being a safe and welcoming place for all, especially those seeking sanctuary. This could be people whose lives were in danger in their own country, who have troubles at home or are just looking for a space of safety.
A School of Sanctuary is a school that helps its students, staff and wider community understand what it means to be seeking sanctuary and to extend a welcome to everyone as equal, valued members of the school community. It is a school that is proud to be a place of safety and inclusion for all. At St Patrick's this fits naturally with our core ethos of peace, love and understanding.
Early Years Quality Mark
We were awarded the Early Years Quality Mark in May 2017 which recognises and celebrates the improvement of literacy, language and mathematics in our EYFS setting.
Investors in People Award
We achieved this award in 2015 recognising our commitment to continously improving our practice to achieve the highest standards possible.
Well being in the Workplace
In June 2016, we were awarded the Well Being in the Workplace Charter Mark which recognises our commitment to staff physical and mental well being.