Year 6
Welcome to our blog.
Welcome to Year Six's blog page. We will keep you updated with the fun and exciting things we get up to everyday via our Twitter feed and blog.  We would really appreciate you commenting on our posts and letting us know what you think.
Here is our learner profile for what a Year 6 child will be able to do by the end of the year.
Year 6 news...
We are delighted to have been able to collect and create 51 shoeboxes at St Patrick's this year. Thank you everyone! Today the Year 6 Faith in Action group enjoyed a visit to the Operation Christmas Child sorting centre to see how the boxes are checked, sorted and packed before shipping by some wonderful volunteers.
0 Comments
---
The results so far are very close with 4 classes all having 6 pieces each, and the other classes not far behind. This could be a close run race! Make sure you are all in school everyday for your class to be in with a chance to win!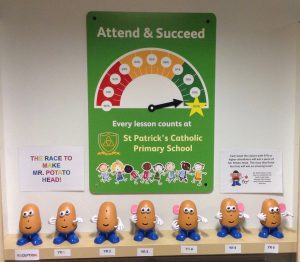 0 Comments
---
This week we met Tom. He is a black and white Lurcher and he is 5 years old. He has been in the dogs home for about a year. He was really friendly and he seemed very relaxed listening to us read.
0 Comments
---
Thank you to everyone who came to or contributed to our lovely assembly this morning. Children from all classes were proud to show what they had been learning about Baptism and Confirmation. We are looking forward to learning about Islam next week, which will end in another special assembly next Friday. Do come and join us!
0 Comments
---
Last Friday we enjoyed a wonderful "Show and tell" assembly to mark the end of our RE topic, "Families". Each class shared what they had been learning in a creative way, and it was wonderful that so many of our families came to celebrate with us! Thank you to all who came and to all the children and staff for their lovely contributions.
0 Comments
---
We have been studying health and fitness in science recently and have looked at the circulatory system in great detail. Here is an example of a Keynote presentation we created to summarise our knowledge.
0 Comments
---
Thursday saw Year 6 going on the short journey down to Liverpool Marina. We took 8 person boats and rowed all the way to the Albert Dock and back (and Mr Lowry got just a little wet!). We then had great fun on the inflatable obstacle course on the water. A fantastic day!
Invalid Displayed Gallery
2 Comments
---
Year 6 started their activity week off with a trip to Chill Factore in Manchester on Tuesday. They had a fabulous time putting on the boots and skis and trying out a new sport.
Invalid Displayed Gallery
2 Comments
---
Here are a few poems linking to your learning about the human body this term!
One Comment
---
Today, during Eco Club, Mrs Lewis received the call from Eco Schools to say we had achieved our FIFTH GREEN FLAG! Everyone – staff, children and families – has worked so hard towards this and we have a lot to be proud of. We also have lots of exciting future plans! For now, look how delighted Eco Club are!
13 Comments
---