Year 6
Welcome to our blog.
Welcome to Year Six's blog page. We will keep you updated with the fun and exciting things we get up to everyday via our Twitter feed and blog.  We would really appreciate you commenting on our posts and letting us know what you think.
Here is our learner profile for what a Year 6 child will be able to do by the end of the year.
Year 6 news...
This morning, Years 3, 4, 5 and 6 went to the Philharmonic Hall for a special "Concert for Schools". In the concert, presenter Alasdair Malloy and the Royal Liverpool Philharmonic Orchestra taught us about revolutionary composers including Beethoven, Bach, The Beatles, John Adams, Stravinsky and John Cage. The amazing musicians also performed music from John Williams' Star Wars: The Force Awakens. It was an exciting, educational, music-filled experience linked to the National Curriculum. We even had a chance to sing a specially written song as a massed choir accompanied by the Royal Liverpool Philharmonic Orchestra!
Invalid Displayed Gallery
3 Comments
---
Today, the Digital Leaders and Computing Council all visited the Apple Store in Liverpool One. It was really fun. One of the workers showed us a coding app called Swift Playground. It was challenging, but exciting. After that, we got to control BB-8 and we saw a new robot Jimu (he was made from Lego). In the apple store we were taught how to code and program. We saw all of Apple's devices. We all enjoyed ourselves and I would love to come back again.
By Samiya
3 Comments
---
Today, we went to John Moores university (miss Lally's university) to teach trainee teachers how to use the apps we use in school. There were eight of us, four year fives and four year six. We had two groups of trainee teachers and two digital leaders on each table. Some of the apps we used were: pic-collage, photospeak, puppetpals2, morpho, garageband and imovie. We really enjoyed it and I think they did too. We were there form 9:00 till 11:00.
Koketi and Samiya
2 Comments
---
It was wonderful to see so many friends and families at our RE assembly this morning! Thank you to everyone who came – the children were very proud to show you their wonderful work. It was great to see how much each class has been learning, and their hard work was presented in creative and memorable ways.
Invalid Displayed Gallery
3 Comments
---
Members of our school Eco Council and Eco Club were proud to show Tom Crone, from the city council, around our school today. He spoke to year 6 (who had some fantastic questions!) about what it is like to work as a councillor, before enjoying a tour of all our Eco Schools work and seeing how it links to the curriculum. Mr Crone said he was very impressed by what he saw in our school!
Invalid Displayed Gallery
One Comment
---
Today, the digital leaders and year 6 computing councillors have been to Liverpool Football Club in Anfield and met Gary McAllister. First, we walked up and down stairs(lots of them).Next, we entered a big room with over 270 people .It was crowded .Then, Allen (the person who was teaching us) asked everyone questions like do you have social media?
We also have been doing some activities such as guessing the emoji and jigsaw and as well we have to be safe online so when we have Instagram, musical.ly, Facebook and snapchat be very careful what you share and post make sure you don't share out personal information such as street signs and phone numbers.
Nataliyah , Kara and Jessie
4 Comments
---
In English, we have been reading The Viewer. Tristan loves going to the Junk Yard and discovers an old viewer on one of his visits. He then mysteriously disappears. Here are some of our TV Interviews with Tristan's mum.
0 Comments
---
Some Michael Rosen poems that link nicely with our Science unit this term!
5 Comments
---
What a fantastic science lesson today! Can anyone explain what we did and what we learnt? Be careful … the videos aren't in the correct order!
2 Comments
---
In year 6 DT we have been making Land Yachts which were powered by wind energy. Our challenge was to reduce the amount of friction produced while they were in motion.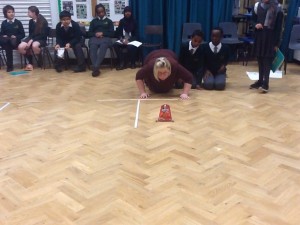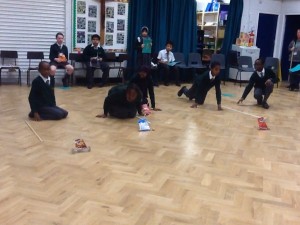 One Comment
---