Year 5
Hello everyone
Welcome to Year Five's blog page.  We will keep you updated with the fun and exciting things we get up to everyday via our Twitter feed and blog.  We would really appreciate you commenting on our posts and letting us know what you think.
Here is our learner profile for what a Year 5 child will be able to do by the end of the year.
Year 5 news...
We used technology in maths this morning. We worked really hard to read timetables and create different questions for the rest of our class.
Using a app we created QR Codes of our questions and to show what we have learnt.
Well done year 5!
One Comment
---
Our new RE topic is Freedom and Responsibility. We created fantastic performances looking a our rights and how  we are responsible for our actions.
One Comment
---
We met Gremlin today, at first because she is big some of us were a bit surprised but we found our she was very friendly.
Gremlin liked strokes and belly rubs! She was so calm when some of the girls were reading to her that she feel asleep!
2 Comments
---
Today in science, we looked closely at our heart and the special parts which do amazing jobs to keep us alive.
We used our big heart map to help us label and discover more about each part.
One Comment
---
Some more children from Year 5 had a chance to read to a dog from Merseyside Dogs Home today.
Pete is a Lurcher and is a very gentle dog. He certainly seemed to be enjoying hearing the stories, and seems to be listening very well. He also liked having some love and attention in the sun in our garden!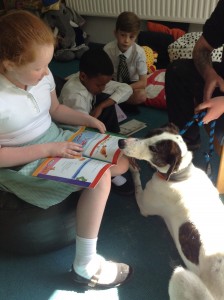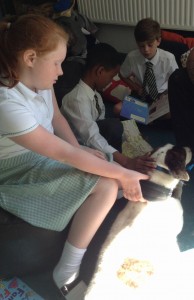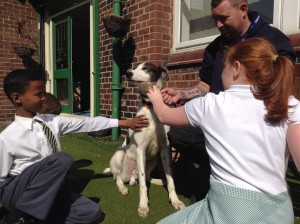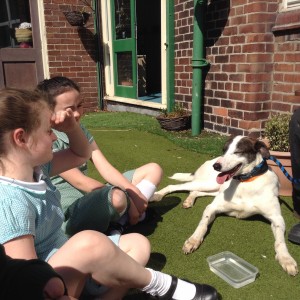 2 Comments
---
Today, we were visited by a dog called Pete. He was Lurcher from Merseyside Dogs Home.
We got to read our books to him and ask questions to the helped who brought him in to us.
Alexie read a poetry book and Pete really loved it!
He loved the sunshine out in our secret garden
By Kara, Lilly B and Alexie
4 Comments
---
A huge congratulations to Kara who has come first place for our school in the Dot Art Liverpool competition.
We are so proud!
A panel of art experts have selected their top three artworks from each school and public voting was open from 3rd April to 5th May 2017. The first-placed entry from each school will be included in an exhibition at St Georges Hall in Liverpool starting on the 16th June.
15 Comments
---
This is portrait of Frank Auerbach. Use the internet to research who he is. Find out about his life, his work, and why he is famous. Look for interesting or unusual facts about him.
Here are some starter questions:
1. Where was he born?
2. When was he born?
3. What happened in his childhood?
4. Did he only paint portraits?
5. How did he use paint?
6. How big was his self portrait?
7. When did he make it?
8. What did he use to make it?
9. What age was he?
10. What do you think about the self-portrait?
4 Comments
---
This week, we have been continuing our adventures with Odysseus and have read all about his run in with a cyclops.
We decided to turn the chapter into a play script.
Year 5 worked so hard to include all of the features of the genre and the performances were excellent!
Invalid Displayed Gallery
6 Comments
---
In science this week we have been looking at the role of the lungs and how they work. We really enjoyed creating model ones out of cups and balloon.
Who can tell me what part of the body was represented by the straw, balloon, cup and cling film?
Invalid Displayed Gallery
5 Comments
---