Year 5
Hello everyone
Welcome to Year Five's blog page.  We will keep you updated with the fun and exciting things we get up to everyday via our Twitter feed and blog.  We would really appreciate you commenting on our posts and letting us know what you think.
Here is our learner profile for what a Year 5 child will be able to do by the end of the year.
Year 5 news...
Years 4 and 5 have been exchanging Christmas cards and videos with our partner school in Madrid, CEIP Gabriela Mistral. We have also been exchanging information about ourselves and about Christmas traditions in England and Spain. Take a look at the informative Spanish PowerPoints that Year 5 have made to help our Spanish friends learn about English Christmas traditions!
0 Comments
---
Year 5 were very lucky to be able to make their designed product in DT. We had so much fun making bread and we learnt so much about baking that we didn't already know. It got very messy, but it was worth it! Our bread looked and tasted fantastic! Now we're ready to evaluate…
One Comment
---
In Science, we designed burglar alarms by using our knowledge of circuits. We invited our parents and families in to support us and they were a fantastic help! It was great to show them how much we know about electricity and to impress them by helping them. Thank you all for coming!
One Comment
---
It's great to see children across KS2 learning science together! This group is designed to give some of our pupils extra practice honing their scientific skills and developing their knowledge.
0 Comments
---
The results so far are very close with 4 classes all having 6 pieces each, and the other classes not far behind. This could be a close run race! Make sure you are all in school everyday for your class to be in with a chance to win!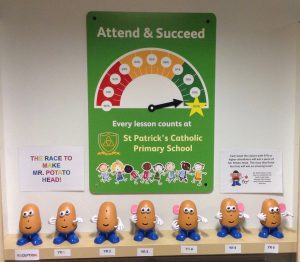 0 Comments
---
Thank you to everyone who came to or contributed to our lovely assembly this morning. Children from all classes were proud to show what they had been learning about Baptism and Confirmation. We are looking forward to learning about Islam next week, which will end in another special assembly next Friday. Do come and join us!
0 Comments
---
In Science, the children were in awe of the endless possibilities of making an electric circuit. Independently, they generated questions such as 'If there is an open switch in the circuit, it will not be complete, so will the lamp still light up?' 'If you have two lamps and one cell in the circuit, would the brightness of the lamps be dimmer?'. As problem solvers, they designed and created their own circuits and just look at our proud faces!!
0 Comments
---
On Wednesday morning, Mr Delaney and Mr Kehoe from LJMU came to year 5 to teach us about poetry. We explored it through drama by hot seating, drawing the characters, de-coding the poem using a dictionary and rehearsing. We discussed the importance of intonation, facial expressions and actions which helped us with our amazing performance at the end!
Well done year 5 and LJMU students!
0 Comments
---
Last Friday we enjoyed a wonderful "Show and tell" assembly to mark the end of our RE topic, "Families". Each class shared what they had been learning in a creative way, and it was wonderful that so many of our families came to celebrate with us! Thank you to all who came and to all the children and staff for their lovely contributions.
0 Comments
---
We have had a fabulous science and PE week. We have done lots of things.
On Tuesday, we did an exercise class with the coaches from Pure Gym. It was exhausting but so much fun at the same time. We then had our UK Military Schools in the afternoon and we did a speed test to check our fitness.
On Wednesday, we did a whole school workout with Mr Lowry and Mr Hignett and all the other teachers and staff. We could feel all of our achy muscles (DOMS) from the day before.
On Thursday we had our usual PE lesson with Mr Hignett and in the afternoon we did science. We look at the bones in our bodies and created our very own skeletons.
Today, we have done Yoga with Mrs Routledge and PE with Miss Waters. We practiced our basket ball skills and passing games.
Such a fun week!
by Kara and Viyan
0 Comments
---