Year 4
Hello from Year 4
Welcome to Year Four's blog page.  We will keep you updated with the fun and exciting things we get up to everyday via our Twitter feed and blog.  We would really appreciate you commenting on our posts and letting us know what you think.
Here is our learner profile for what a Year 4 child will be able to do by the end of the year.
Year 4 news...
The results so far are very close with 4 classes all having 6 pieces each, and the other classes not far behind. This could be a close run race! Make sure you are all in school everyday for your class to be in with a chance to win!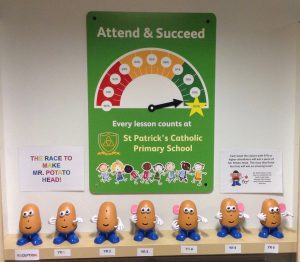 0 Comments
---
Thank you to everyone who came to or contributed to our lovely assembly this morning. Children from all classes were proud to show what they had been learning about Baptism and Confirmation. We are looking forward to learning about Islam next week, which will end in another special assembly next Friday. Do come and join us!
0 Comments
---
Last Friday we enjoyed a wonderful "Show and tell" assembly to mark the end of our RE topic, "Families". Each class shared what they had been learning in a creative way, and it was wonderful that so many of our families came to celebrate with us! Thank you to all who came and to all the children and staff for their lovely contributions.
0 Comments
---
Before half term, year 4 visited Moel Famau in Wales. We had a fantastic day walking the mountain and the weather was beautiful and sunny. We all tried our best and encouraged each other to get to the top. Along the way, we used our map reading skills from Geography to help us. It was so much fun that we are planning another walking trip!
0 Comments
---
In English, we have started a new book called The Frog Prince Continued. To help us with our writing, we used drama and role play to act out one of the scenes where the princess was disgusted with the frog prince.
0 Comments
---
Here are a few poems linking to your learning about the human body this term!
One Comment
---
Today we invited our parents in to help us with our pneumatics project. We've spent some time planning and drafting our ideas and finally got the chance to start putting our plans together. Everyone has worked really hard on making at least one part of our product move using air pressure.
Thank you to the parents that were able to make it, you were a huge help!
Invalid Displayed Gallery
2 Comments
---
Today, during Eco Club, Mrs Lewis received the call from Eco Schools to say we had achieved our FIFTH GREEN FLAG! Everyone – staff, children and families – has worked so hard towards this and we have a lot to be proud of. We also have lots of exciting future plans! For now, look how delighted Eco Club are!
13 Comments
---
Last term we spent six weeks developing our gymnastics skills with Mr. Lowry in PE. We learnt a lot of new skills including shoulder stands, backward roll, leaps and jumps. Each week these skills got a bit more difficult and by the end we were creating our own floor routines using different apparatus. Check out the pictures.
Invalid Displayed Gallery
2 Comments
---
On Friday we took full advantage of the great weather as we went outside with a group of visitors to learn about different Science topics. We were split into small groups and got to learn about how our shadows change due to the movement of the Sun, different habitats and plants that are in our garden. Our visitors were very surprised at how good our Science knowledge was and we had great fun carrying out different investigations.
Invalid Displayed Gallery
One Comment
---