Year 4
Hello from Year 4
Welcome to Year Four's blog page.  We will keep you updated with the fun and exciting things we get up to everyday via our Twitter feed and blog.  We would really appreciate you commenting on our posts and letting us know what you think.
Here is our learner profile for what a Year 4 child will be able to do by the end of the year.
Year 4 news...
We have been having great fun reasoning in maths this week! Here we are working as a team on fractions, trying to find the odd one out!!
0 Comments
---
Mrs Gradden delivered an extremely exciting Christmas package on Wednesday! We were amazed to receive beautiful Christmas cards all the way from a year 4 class in Madrid!! In return we have been making and writing special messages in Spanish to send back! Feliz Navidad!!
3 Comments
---
We have been really busy in DT this week! We've been looking at and analysing different materials for the inside of our torches! We decided that reflective opaque materials such as tinfoil were the best!! It was great fun!
One Comment
---
In Science club last week, the children made whiskers move, flags wave and hair stand up. They did this by creating their own designs and using the static electricity from the balloon. Well done year 4, amazing work!
One Comment
---
It's great to see children across KS2 learning science together! This group is designed to give some of our pupils extra practice honing their scientific skills and developing their knowledge.
0 Comments
---
Last week in Science club, we explored how amazing static electricity was. We made whiskers move, flags wave and even Mr Sproule's hair stand up! Another great week year 4, well done!⭐️💚
0 Comments
---
We had a great experience at the cinema today.  The children watched an animated tale of a young orphan from France, who dreamed of being a dancer.  Excellent links with social, moral and cultural studies, as well as anti-bullying week.
0 Comments
---
The results so far are very close with 4 classes all having 6 pieces each, and the other classes not far behind. This could be a close run race! Make sure you are all in school everyday for your class to be in with a chance to win!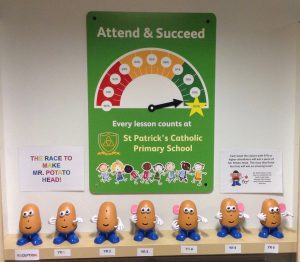 0 Comments
---
Thank you to everyone who came to or contributed to our lovely assembly this morning. Children from all classes were proud to show what they had been learning about Baptism and Confirmation. We are looking forward to learning about Islam next week, which will end in another special assembly next Friday. Do come and join us!
0 Comments
---
Last Friday we enjoyed a wonderful "Show and tell" assembly to mark the end of our RE topic, "Families". Each class shared what they had been learning in a creative way, and it was wonderful that so many of our families came to celebrate with us! Thank you to all who came and to all the children and staff for their lovely contributions.
0 Comments
---