Foundation Stage
Hello and welcome to our blog page.  Join us as we find out more about the world, have fun and explore.
Foundation Stage news...
We had a wonderful time on election day learning about the importance of voting, and in simple terms how the voting system works. As we are learning about dinosaurs, we read and discussed information about three different dinosaurs, and then voted for our favourites. We had one vote each, ballot papers and a ballot box. Later we sorted and counted the votes. The scores were diplodocus 14, Tyrannosaurus Rex 13, and Stegosaurus 1! (A hung dinosaur parliament – how exciting!)
Later we used our vote again to select our dinners.
Have a look at our pictures below!
Invalid Displayed Gallery
0 Comments
---
Invalid Displayed Gallery
What a week we have had in Nursery and Reception! On Monday we found a GIANT footprint in our sandpit! We wondered whether it could have been made by a lion, tiger, bear, Gruffalo or dinosaur… So we began to investigate.
First we wrote questions together about what we wanted to find out. Then we wrote observations and news reports about what we had seen, and kept watch. Next we measured the footprint, and drew a footprint on paper exactly the same size. We also had fun mixing paint and making footprints of our own!
In our research we found out from the internet that it couldn't have been made by a leopard or tiger as it was too big. But then we found out that some dinosaurs had four toes, just like the footprint… We will have to find out more about dinosaurs…!
5 Comments
---
Foundation children have been having lots of fun in school.
Invalid Displayed Gallery
Have a look and see how much fun we have.
One Comment
---
This week in Nursery and Reception we are continuing learning through fun activities linked to "Iggy Peck, Architect", but are also enjoying the story of "The Three Little Pigs". We are setting up a builders' yard role-play area, and investigating the suitability of different materials for building, by exploring their properties. We will be interviewing characters from the books by taking on roles, and using these to present and write our own news programmes and written reports. Reception will also be continuing to develop skills linked to halving and doubling.
0 Comments
---
Today, during Eco Club, Mrs Lewis received the call from Eco Schools to say we had achieved our FIFTH GREEN FLAG! Everyone – staff, children and families – has worked so hard towards this and we have a lot to be proud of. We also have lots of exciting future plans! For now, look how delighted Eco Club are!
13 Comments
---
Tomorrow we will be playing some Easter games and making Easter crafts in our stay-and-play group for under-threes. Come along from 9 until 10 to enjoy the fun!
0 Comments
---
This week in Nursery and Reception we will be beginning a new book, "Iggy Peck, Architect", which will be used throughout the school. We will be finding out about and architects and builders, with lots of role-play and hands-on investigative activities. We will be finding out about different materials, and how we can make use of materials that could be seen as rubbish, as well as making our own plans and constructions. We will also be working with a visiting artist on an exciting new project!
In addition we will be meeting visitors (two-legged and four-legged!) from the Dog's Trust, and finding out how to approach and treat dogs safely and kindly.
Plus we will be enjoying lots of Easter-related activities! Another busy week!
One Comment
---
A gorgeous start to the day at St Patrick's, with daffodils blooming by our fire circle and polytunnel!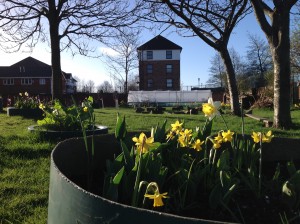 2 Comments
---
Reception children have been learning all about symmetry. They have made symmetrical butterflies.
Invalid Displayed Gallery
4 Comments
---
Nursery had great  fun walking around school very quietly, so they could listen to the different sounds around them.
Invalid Displayed Gallery
One Comment
---