Foundation Stage
Hello and welcome to our blog page.  Join us as we find out more about the world, have fun and explore.
Foundation Stage news...
Nursery and Reception heard some exciting news yesterday afternoon – some chalky paw prints had been spotted in school! We quietly followed the trail and found our missing class bear…IN THE LIBRARY! He was clutching a copy of "We're going on a bear hunt" by Michael Rosen in his paws. After hundreds of bear hugs, we told him that he must NOT wander off on his own again as we had been very worried about whether he was safe! However, we realised that he must love this book, so we will be using it in class next week.
Photos to follow soon…
0 Comments
---
Reception enjoyed a wonderful trip to the cinema yesterday. We walked to the bus stop and caught the bus to town (which was VERY exciting!), and talked about how we keep safe near roads on the way. At the cinema we were first to arrive, so played "The farmer's in his den" and "Ring-a-ring-a-roses" by the Odeon until it opened! The children were all wonderfully behaved and enjoyed a few treats while watching the film "Sing!" before catching the bus back to school. We'll be talking and writing about our  fun (and environmentally-friendly!) day out on Friday!
Photos to follow soon!
0 Comments
---
Help! Our giant class bear has gone missing! We have made posters and displayed them around the school, written messages and been searching high and low and asking EVERYONE we meet if they have seen him. Now he has sent us some pictures of where he's been in school, but we still can't find him! We are building a den and leaving food out for him tonight to see if he will come back…
One Comment
---
We had so much fun at our silly sock day yesterday!
Thanks to all the friends and family who came along to celebrate our learning from the book "Socks" by nick Sharratt.
0 Comments
---
The results so far are very close with 4 classes all having 6 pieces each, and the other classes not far behind. This could be a close run race! Make sure you are all in school everyday for your class to be in with a chance to win!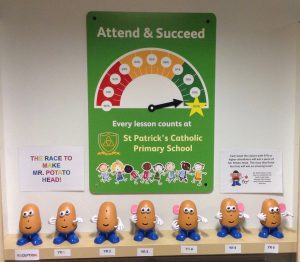 0 Comments
---
Thank you to everyone who came to or contributed to our lovely assembly this morning. Children from all classes were proud to show what they had been learning about Baptism and Confirmation. We are looking forward to learning about Islam next week, which will end in another special assembly next Friday. Do come and join us!
0 Comments
---
Last week Reception visited St Patrick's church to see where Baptisms take place. This week we have been showing what we know by acting out Baptism's ourselves.
0 Comments
---
Nursery and Reception talked about how to keep safe and have fun on Bonfire Night last week, and this week we are enjoying responding to our experiences of fireworks in different ways. We have made streamers and enjoyed firework music, movement and dance, made sparkly firework art work, and Reception are beginning to write some firework-inspired poems.
0 Comments
---
Last Friday we enjoyed a wonderful "Show and tell" assembly to mark the end of our RE topic, "Families". Each class shared what they had been learning in a creative way, and it was wonderful that so many of our families came to celebrate with us! Thank you to all who came and to all the children and staff for their lovely contributions.
0 Comments
---
0 Comments
---