Foundation Stage
Hello and welcome to our blog page.  Join us as we find out more about the world, have fun and explore.
Foundation Stage news...
We had so much fun at our silly sock day yesterday!
Thanks to all the friends and family who came along to celebrate our learning from the book "Socks" by nick Sharratt.
0 Comments
---
The results so far are very close with 4 classes all having 6 pieces each, and the other classes not far behind. This could be a close run race!
Make sure you are all in school everyday for your class to be in with a chance to win!
0 Comments
---
Thank you to everyone who came to or contributed to our lovely assembly this morning. Children from all classes were proud to show what they had been learning about Baptism and Confirmation. We are looking forward to learning about Islam next week, which will end in another special assembly next Friday. Do come and join us!
0 Comments
---
Last week Reception visited St Patrick's church to see where Baptisms take place. This week we have been showing what we know by acting out Baptism's ourselves.
0 Comments
---
Nursery and Reception talked about how to keep safe and have fun on Bonfire Night last week, and this week we are enjoying responding to our experiences of fireworks in different ways. We have made streamers and enjoyed firework music, movement and dance, made sparkly firework art work, and Reception are beginning to write some firework-inspired poems.
0 Comments
---
Last Friday we enjoyed a wonderful "Show and tell" assembly to mark the end of our RE topic, "Families". Each class shared what they had been learning in a creative way, and it was wonderful that so many of our families came to celebrate with us! Thank you to all who came and to all the children and staff for their lovely contributions.
0 Comments
---
We have been learning so much through researching dinosuars, and have also been enjoying some great books. We really liked the descriptions in "My Dinosaur Dad" and used the book for our performance in Father's Day assembly. Thank you to everyone who came, and well done to the children!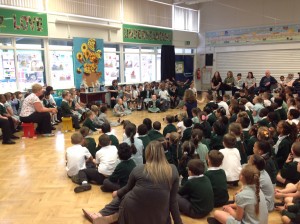 0 Comments
---
A group from Reception LOVED their first Forest Schools session yesterday, learning about the Forest School rules, decorating hats with natural materials, investigating growing plants and having fun together! Forest Schools sessions run for six weeks, and all the children will have a chance to take part. The next group will begin as they move into Year One.
Invalid Displayed Gallery
0 Comments
---
In Nursery and Reception we are taking part in a competition called "The Great Bug Hunt!" We have a lovely garden and always enjoy searching for minibeasts. We observe them closely and have been drawing them and writing about them. We also have our own caterpillars in class! We are treating them very carefully and watching how they grow and change. Watch this space for updates!
Invalid Displayed Gallery
0 Comments
---
In our PE lesson this week, Reception have been learning about how exercise affects our heart and breathing rate. We practiced running races then tested how our heart rates had changed. We also really enjoyed exploring the new outdoor exercise equipment, and thought about which muscles we were using! Lots of learning and fun in Science and PE week!
Invalid Displayed Gallery
0 Comments
---