Reading Blog
Welcome to St Patrick's Science blog page.  We will keep you updated with the fun and exciting things we get up to everyday via our blog.  We would really appreciate you commenting on our posts and letting us know what you think.
Reading Blog news...
We are having lots of festive fun in Nursery and Reception! We have made a giant picture of the Nativity scene, and love role-play related to Jesus' birthday around it. We have had a great time exploring pattern while making paper chains (which turned into moustaches!). We are also learning through play in our "Santa's workshop" role-play area, writing lists and building and counting toys, and are enjoying the home corner for role-play celebrations, cooking and reading in a cosy Christmassy reading area. We are also making and writing our own greetings cards. Not a minute to waste!
0 Comments
---
Today, each child from Year 2 went on a stick hunt to make their very own Stick Man. After we made the stick men in our Art books, we wrote character descriptions for each one of them. Take a look at our great photos so far.
One Comment
---
We are enjoying immersing ourselves in the book "We're going on a bear hunt" and getting messy creating large art pieces based on the different settings in the story!
0 Comments
---
Here are the pictures of our exciting search for our missing class bear last week! We followed his paw prints to find him in the library with his favourite book!
0 Comments
---
Nursery and Reception heard some exciting news yesterday afternoon – some chalky paw prints had been spotted in school! We quietly followed the trail and found our missing class bear…IN THE LIBRARY! He was clutching a copy of "We're going on a bear hunt" by Michael Rosen in his paws. After hundreds of bear hugs, we told him that he must NOT wander off on his own again as we had been very worried about whether he was safe! However, we realised that he must love this book, so we will be using it in class next week.
Photos to follow soon…
0 Comments
---
Help! Our giant class bear has gone missing! We have made posters and displayed them around the school, written messages and been searching high and low and asking EVERYONE we meet if they have seen him. Now he has sent us some pictures of where he's been in school, but we still can't find him! We are building a den and leaving food out for him tonight to see if he will come back…
One Comment
---
We had so much fun at our silly sock day yesterday!
Thanks to all the friends and family who came along to celebrate our learning from the book "Socks" by nick Sharratt.
0 Comments
---
Nursery and Reception have had a lovely start to the term, enjoying becoming part of our "crew" as we begin activities around the book "The Night Pirates". We have been spending time getting to know one another and exploring the things we can do all around us in school. Here are just a few photos to show the fun we have been having, and the learning that has already begun!
0 Comments
---
We have been learning so much through researching dinosuars, and have also been enjoying some great books. We really liked the descriptions in "My Dinosaur Dad" and used the book for our performance in Father's Day assembly. Thank you to everyone who came, and well done to the children!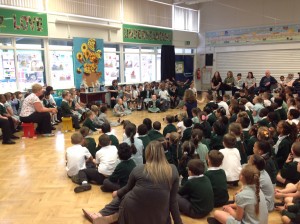 0 Comments
---
Today Zella came to visit us. She is 4 years old.  Her breed is a lurcher. She is very calm and her story is sad. She was abandoned by her owners with her family who were another dog and their two puppies who are 1 year old.
She was very calm and chilled. We thought she might be a little bit nervous of us, but she seemed happy. She is friendly, she liked to listen to us. She was very well behaved.
0 Comments
---