Each year at St. Patrick's we try to raise money to support various charities which are important to our school.
In April 2016, lots of our staff ran the Liverpool Spring 5k in aid of Nugent Care, a charity our school is a great supporter of. We raised £1000 for this worthy cause and lots of our staff were very proud of there achievement.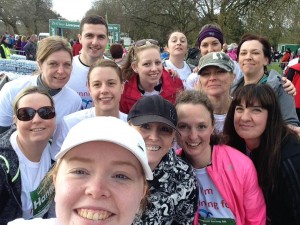 During a special fundraising week in October 2014, we managed to raise an astounding £1036 for Barnardo's! Lots of events including an own clothes day, a cake sale, a sponsored event and a whole school concert all went towards raising this amazing total.
A special thanks to everyone involved. This is the most we have ever raised in St. Patrick's so a massive "Well done!" to all.
During Lent this year, we will be thinking of ways to help raise money for CAFOD an aid agency of the Catholic Church in England and Wales. Their aim is to bring hope and compassion to poor communities of all faiths across the world, standing side by side with them to end poverty and injustice.